Helicopter Pilot




Joined: 20 Nov 2006
Posts: 1037
Location: Jerusalems Lot
Peter wrote:
http://www.imdb.com/title/tt0088680/
What is the very worst night you ever had...?


Estupenda película de Martin Scorsese. En principio no es una comedia, y la sensación preponderante que transmite es angustia y ansiedad, pero algunas risas sí que te produce. Me pone muy nervioso el hecho de que le líen y le líen y no consiga recuperar las llaves de casa. Llaves que no consigue recuperar, por cierto. El caso es que durante toda la peli Paul se va encontrando con todo tipo de gentes, a cual cada vez más perturbado, y cuando cree que sale de una se mete en otra mucho, pero mucho peor...

Al más puro estilo de Kubrick en

The Shining

, Scorsese prohibió a Griffin Dunne que mantuviera relaciones sexuales o durmiera en condiciones hasta que no terminara de rodar la peli. Tim Burton, que estuvo a punto de dirigir la película, le habría tratado mejor, seguro...

Interesante lo que cuenta en el

Trivia

de IMDb:


Quote:
A technique known as "end slating" was used to capture Paul's reaction as he enters the nearly-vacant Club Berlin. Right before filming the shot, Griffin Dunne went to a bar around the corner, ordered drinks for the customers, then ran out without paying. The scene opens on him after this had just happened off-camera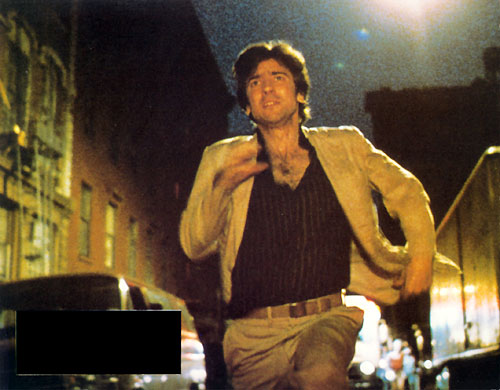 Pequeño "momento zombi",
, en que Paul es perseguido por una patrulla de vecinos rabiosos sedientos de sangre...




Una estupenda Linda Fiorentino "juega a indios" en sus ratos libres.




Una de las extrañas figuras que acostumbran a crear los locos del Soho.




Un plano perfecto que bien podría haber filmado David Lynch.


Busco, pero no encuentro, una imagen del cameo de Scorsese en el Club Berlín (sale subido a una estructura metálica disparando el haz de luz de un foco a la alocada y crestuda muchedumbre).

_________________
http://zombi-blogia.blogspot.co.uk/

www.whiskyroom.co.uk